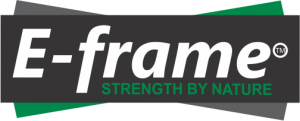 Pinepac E-frame® Structural Timber, manufactured by Pinepac Group, is a kiln-dried and machine graded for strength timber used in the residential and commercial construction of wall frames, roof trusses, and for universal load-bearing applications.
E-frame® is available in SG8, SG10, and high-strength SG12. Available in various sizes and lengths, treated to different hazard classes, including H1.2 Boron, H3.1 LOSP, H3.2 CCA, and H3.2 ACQ. E-frame® is a cost-effective solution available in economic pack sizes or individual pieces selected to your requirements. E-frame® is ideal for Timber Merchants and Prenail and Truss Manufacturers.
For details on the framing sizes and structural grades of timber please Contact Us.
E-frame® Features:
• Compliant with NZ Standards NZS3603, NZS3640, NZS3622 and carries the quality assurance of Verified Timber and NZ Dri Licenses.
• Easily identified with ink branding along one edge. Each piece will have a brand affixed stating the level of hazard class the timber has been treated to and the date and grade of manufacture.
• Kiln Dried to a target moisture content of 12-18% providing faster close-ins.
• Outstanding screwing, gluing, nail holding, and nail plating properties.
• Also available in SG8 wet framing.
• E-frame® is manufactured from fully sustainably grown New Zealand Radiata Pine.
Grades and Characteristic Values: