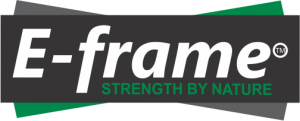 • Keep it dry, leave timber wrapped until needed and keep off the ground using gluts.
• Schedule deliveries so that your frames or packs arrive just in time.
• Don't leave frames lying on the ground.
• Treat nailed frames as dry timber.
• Wrap nailed frames with building paper as soon as possible.
• Don't let bottom plate moisture content delay cladding, generally this moisture is not significant and will dry quickly once cladding is complete.
• Set out in accuracy for 35mm or 45mm E-frame™ finished sizes.
• Ensure that midfloor joists are dry so as to avoid pouting in cladding and stairwells.
• Ensure window, door or ranch slider joinery is ordered to suit E-frame™.
• Check hardware requirements and measurements are to suit 35mm or 45mm E-frame™.
• Check frames for moisture content before lining, don't line over wet timber.
• Disposal – Preserved wood should be sent for disposal to an approved landfill site or by controlled incineration.