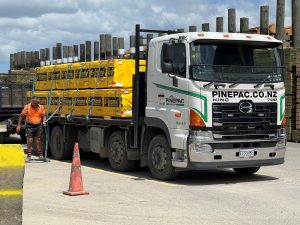 Delivering Radiata Pine to the World...
Pinepac first began exporting to Singapore in the 1970′s, mainly supplying the furniture industry. From Singapore, our product was also moved to Japan, Taiwan, and some of the Middle East. We now export to Australia and the Pacific Islands as well as Pitcairn Island and Korea.
With our ability to supply building materials and hardware through our Western ITM Stores, we are able to accommodate all sizes of orders and have significant experience in exporting both timber and building materials.
We can create packet sizes to suit individual customers' shipping requirements and timber is available in H3, H4, and H5 specifications.
Structural Timber Qualities
Pinepac structural timber is mechanically graded and then the timber properties are verified by an independent third party.
For the Australian Market in particular SG10 and SG12 are produced.
Roundwood Exports
Pinepac exports pressure-treated poles for construction, foundation, and retaining wall purposes. We offer both CCA and ACQ long-life preservative treatment options for customers. High Density (HD) Poles are also available for customers who require a high-density rating.
Pinepac Group is approved under the Biosecurity New Zealand Export Certification Standard Organisation Requirements for:
- Option 1. Phytosanitary Inspection.
- Option 2. Phytosanitary Treatments.
- Option 5. Registered Certification Mark (ISPM15 No:279)
For more information on exports please Contact Us.